New Audi Q7 & SQ7 for Sale in Des Moines, Iowa
Plus tax, title, license and $180 dealer documentary service fee.
Due to ongoing parts shortage issues impacting global production, the availability of some equipment, options or features may be limited. Please contact your local Audi Dealer for more information, and be sure to verify the vehicle you purchase includes all expected features and equipment. Thank you for your patience as we work to navigate these limitations.
Find the New Audi Q7 for Sale in Johnston
Audi is one of the premier luxury automakers on the road today thanks to their ability to offer drivers all over a car that looks timeless and features the amenities that they expect from a German automaker. The Audi Q7 is a luxury mid-size SUV with an elegant design and attractive features. You're welcome to visit Audi Des Moines from Ames, Marshalltown, or beyond, and we will go over some of the key aspects of the Audi Q7 and answer some questions about this new Audi model for sale. Our team will give you the information you need to decide if the new Audi Q7 is right for your family.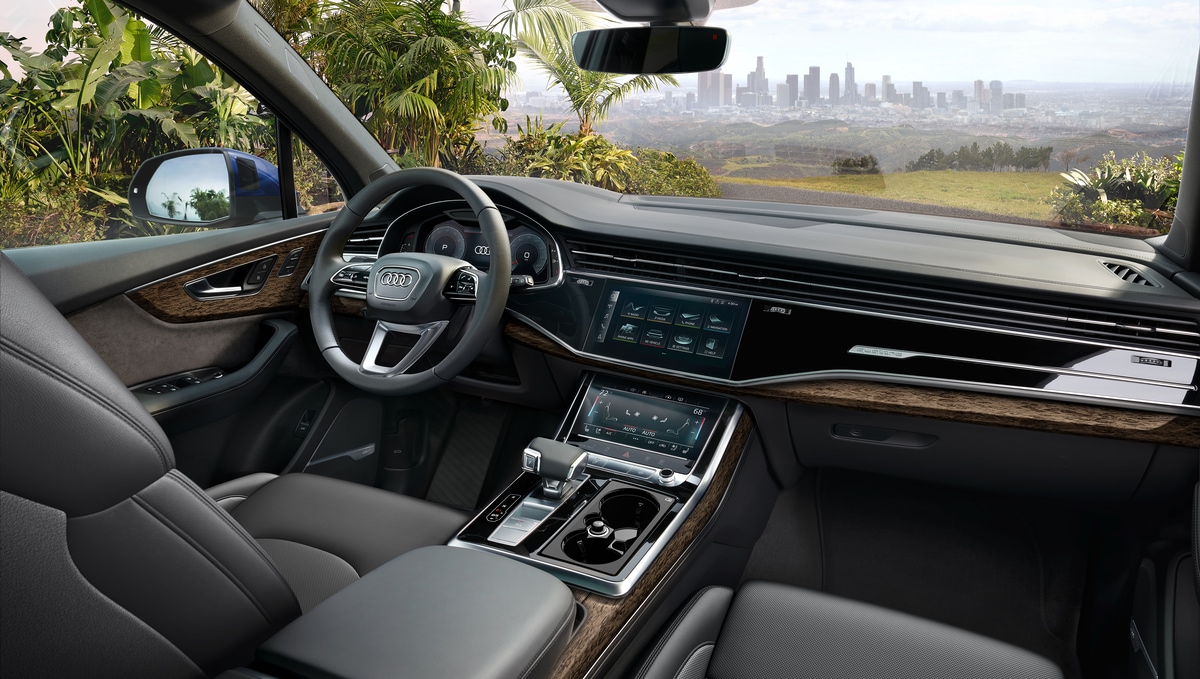 Audi Q7 vs Audi SQ7
The Audi Q7 has been giving families premium luxury since 2002 and the new Audi Q7 models bring families even more luxury than they could have ever imagined. The upscale Audi SQ7 is a special configuration of the Audi Q7 that first rolled out in the 2020 model year. The first thing that sets it apart is that the Audi SQ7 has an exclusive twin-turbo 500-horsepower engine to power your trips around Des Moines. Its engines give the SUV a powerful and sporty feel that is quite different from what other SUVs of this size can offer. Alternatively, the Audi Q7 has a choice between two less powerful engines. On top of that, the Audi SQ7 has a parallel set of trims that offer a few more extra features than the regular Audi Q7's versions of those trims.
Audi Q7 & SQ7 Trims and Prices
If you are looking for the new Audi Q7 price, we can help you explore all the options and features available in the lineup. The Audi Q7 has three trim levels, and it shares two of them with the Audi SQ7. 
The base trim for the Audi Q7 is the Premium, and it has a touchscreen, a virtual cockpit, Wi-Fi, Apple Car Play and Android Auto, and much more. It also has a Convenience package and other options available, with a starting price of $59,200. 
The second trim of the Q7 is the Premium Plus, which it shares with the Audi SQ7. The upscale Audi Q7 version adds automated safety features, a sound system upgrade, the options from the Premium trim, and a new Executive optional package at a starting price of $63,300. Alternatively, the Audi SQ7 version has some additional performance features for its starting price of $90,200, like an adaptive air suspension and optional alternative styling with red and black elements. 
The top trim for both Audi Des Moines cars is the Prestige trim. On the Audi Q7 side, it has an adaptive air suspension and all the lower trim level options. It adds a head-up display, power doors, and some exclusive features, like massaging chairs and a night vision camera, with a starting price of $74,400. The alternate Audi SQ7 version, with a starting price of $94,900, gets another sound system upgrade, a revised rear differential, and roll stabilization.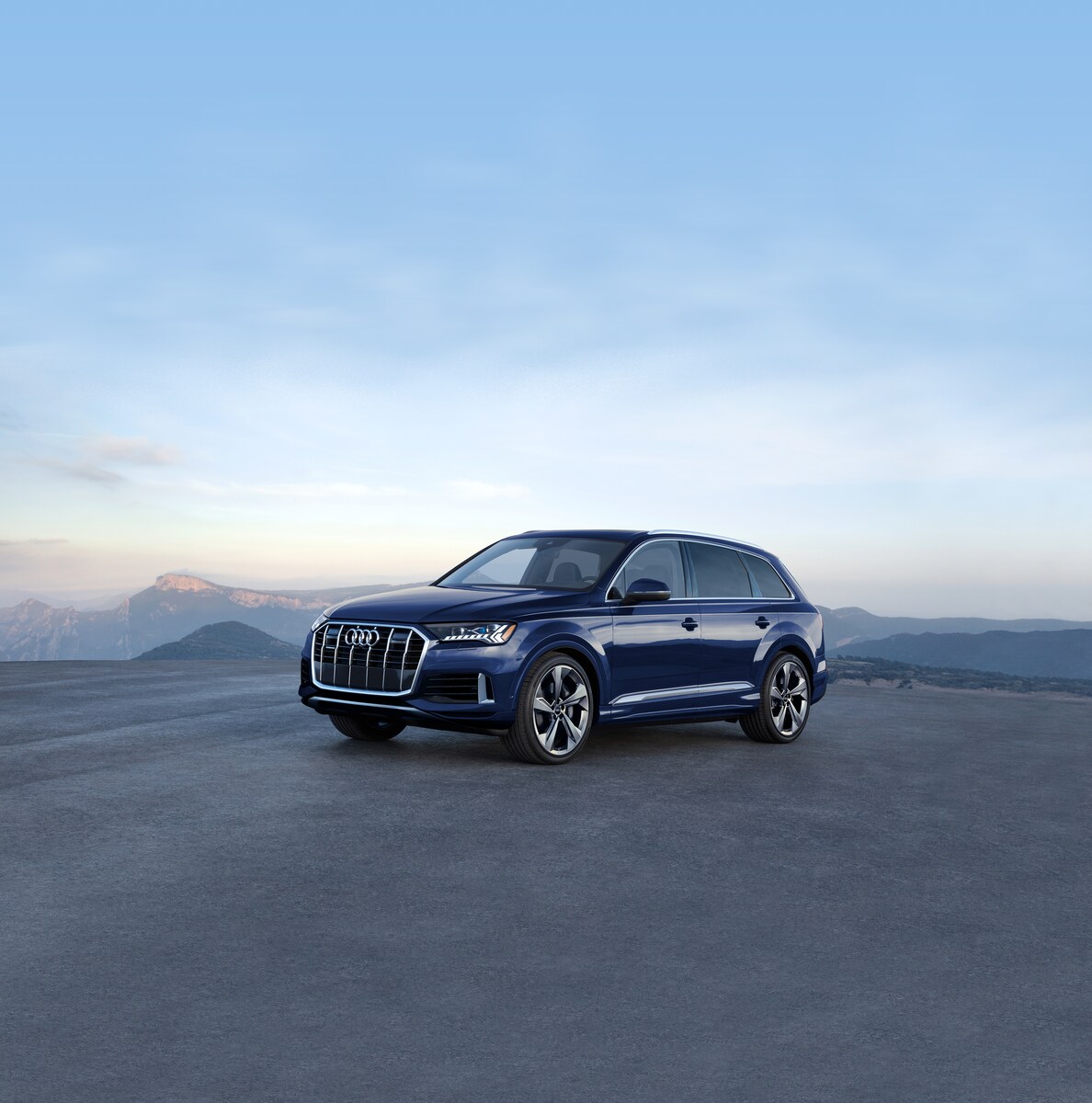 Frequently Asked Questions About the Audi Q7
Does the Audi Q7 Have a 3rd Row?
Yes, the Audi Q7 has a third row of seating. The second row is a pair of captain's chairs, while the third row is a bench. The two outside seats in the third row have LATCH connectors for attaching a child-safe seat. There are 35.7 cubic feet between the second and third rows, which you can use as cargo space if there is nobody sitting back in the third row.
How Much Can the Audi Q7 Tow?
There are different configurations for the Audi Q7 that affect its towing capacity. With the most powerful engine on board, the Audi Q7 can tow 7,700 pounds around Iowa. That's enough to make it a class leader among three-row luxury SUVs, and makes it competitive with trucks.
How Much Cargo Room Does the Audi Q7 Have?
The Audi Q7 has room for cargo in the rear behind the third row with 14.2 cubic feet of space. There are another 21.5 cubic feet between the second and third rows and an additional 33.9 cubic feet between the second row and the front row, so it comes down to how you arrange the cargo you want to bring.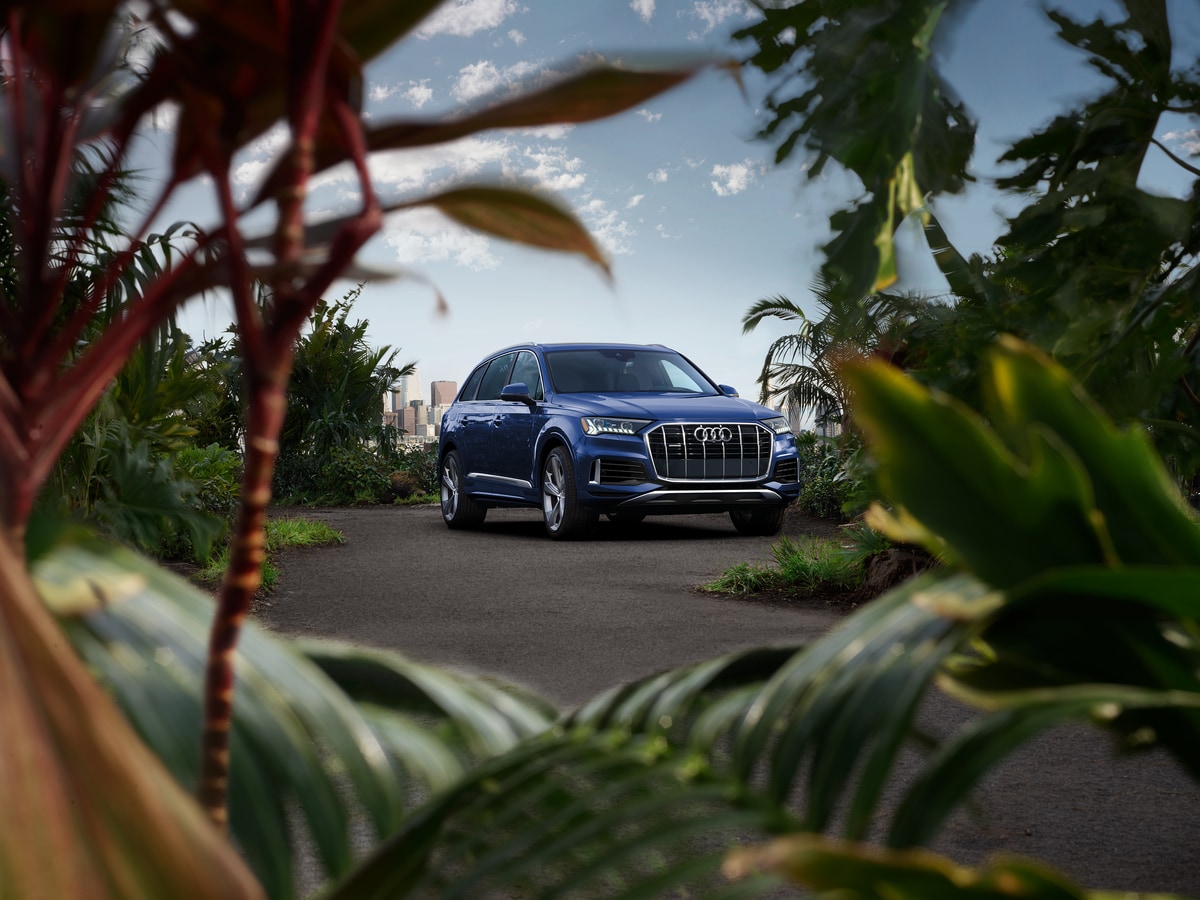 Ready to Buy or Lease a New Audi Q7 or SQ7?
If you're ready to sign a new Audi lease, you'll find that the Audi Q7 is a leading contender among luxury SUVs with three rows. When you want to experience its performance and other aspects, let us be your Audi dealer! Start your search at home by applying for financing with the incredible staff members of Audi Des Moines in Johnston, IA! Our staff prides themselves in their ability to offer incredible service center through every step of the shopping process and with our great Global Incentives you can have an even better chance at finding the new Audi Q7 that will fit your budget.
Come on over today to Audi Des Moines and let our staff make car shopping a painless and stress-free process. We can help you choose a trim level and take one out on the road for a test drive. See you soon!
How can we help?
* Indicates a required field