New Audi Q5 Luxury SUV for Sale in Des Moines, IA
Due to ongoing parts shortage issues impacting global production, the availability of some equipment, options or features may be limited. Please contact your local Audi Dealer for more information, and be sure to verify the vehicle you purchase includes all expected features and equipment. Thank you for your patience as we work to navigate these limitations.
The New Audi Q5 in Des Moines is Spirited, Classy, and Tech-Filled
When buyers are looking for a luxurious compact crossover SUV, there are only a few real options available. The new Audi Q5 vaults itself far ahead of other luxury compact SUVs on the market, and our team at Audi Des Moines can't wait to tell you more about what separates it from the competition. Audi is by far one of the most well-rounded and respected luxury automakers available thanks to advanced technology, capable performance, and timeless design. This exceptional new Audi SUV showcases countless desirable traits, starting with its potent engine lineup and impressive athleticism. It also boasts a breathtaking cabin, which has not only plenty of upscale styling details but also various cutting-edge tech features you're sure to enjoy while driving.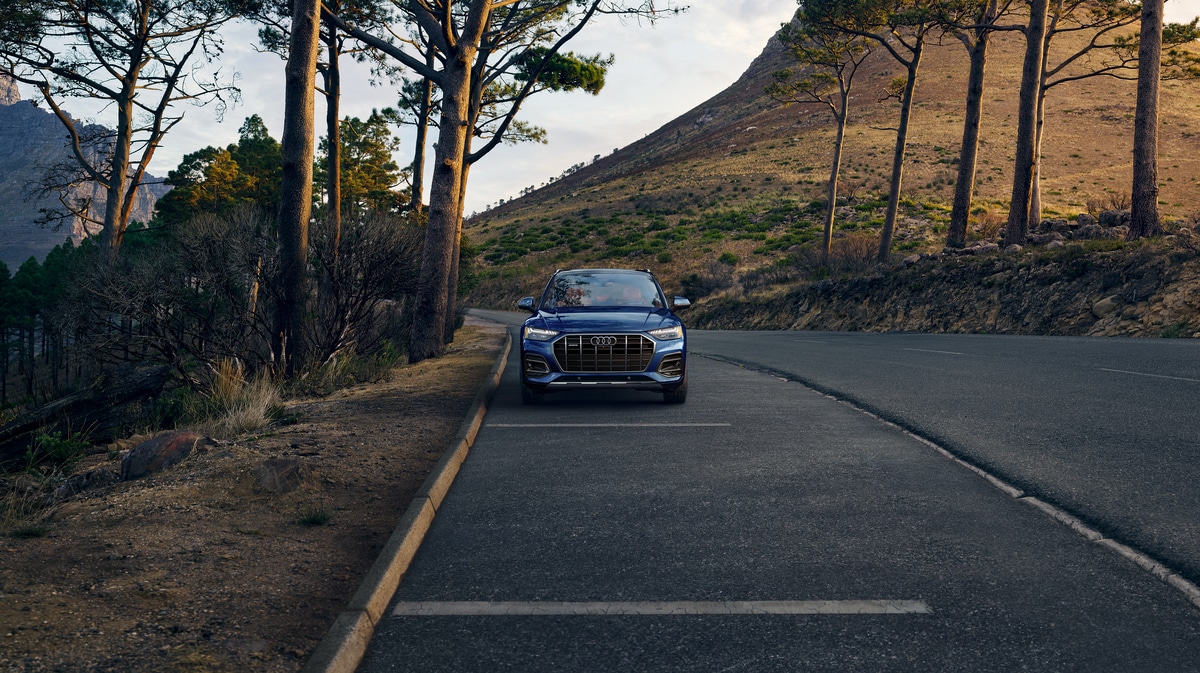 Powerful and Composed Performance
There are three engine options for the new Audi Q5, each of which provides copious amounts of horsepower and torque. While the base turbocharged four-cylinder is plenty powerful enough, you'll have the option to upgrade to the efficient plug-in hybrid powertrain or the top-of-the-line twin-turbo V6 that makes 252 horsepower and 273 lb.-ft. of torque for even more thrill on the road. When paired with a seven-speed transmission and the available quattro® all-wheel drive system, it makes this SUV the perfect choice for you. Additionally, this SUV strikes a nice balance between comfort and agility, delivering precision handling and a smooth ride all in one.
A Lavish Interior with Many Features
With the Audi Q5 you'll find a luxury compact crossover SUV that not only offers comfort and luxury to all of the passengers, but it does that with a design that caters to all passengers. As you'd expect from this luxury automaker, the new Audi Q5 has a stunning interior outfitted with all sorts of quality materials and convenient features. For example, the new Audi Q5 comes standard with soft leather upholstery that adds style and comfort to the cabin. Inside, drivers and passengers will find features that make this model special. In the front of the cabin, you can enjoy available leather seating, heated and ventilated front seats, smartphone connectivity, Wi-Fi, wireless device charging, a heated steering wheel, Audi virtual cockpit, and a premium Bang & Olufsen® audio system! The rest of the passengers will enjoy three-zone climate control as well as a ton of space for both cargo and comfort! But, what really helps to make this model unique is the available safety and driver assist features that make this model incredible special.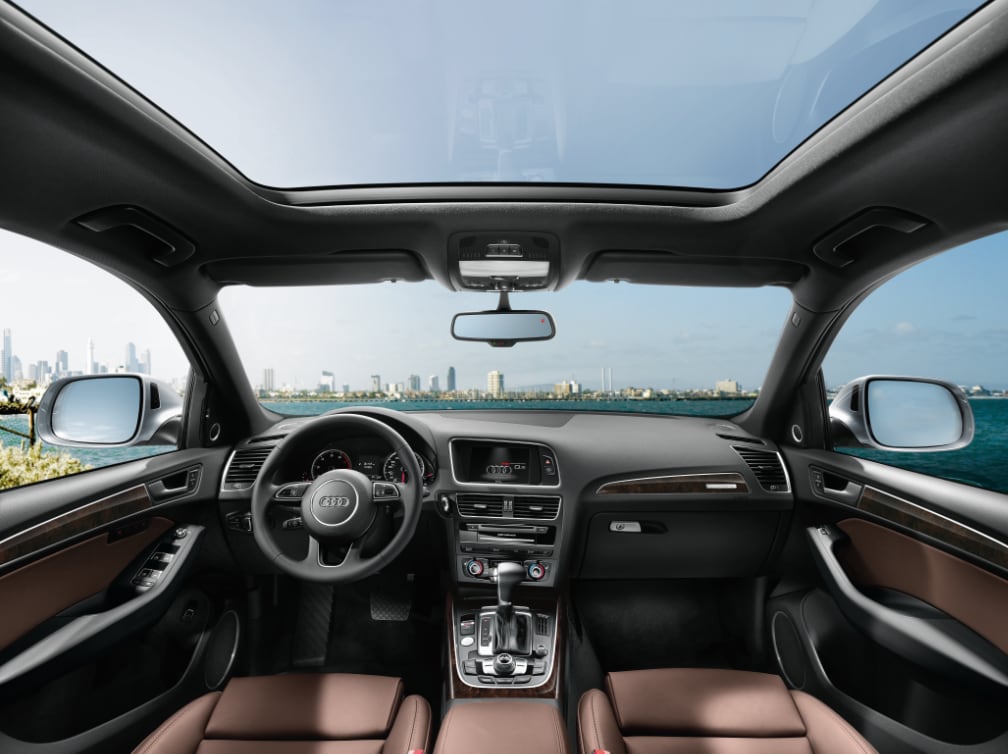 Audi Q5 Trim Level Highlights
Audi Q5 Premium: Drivers are greeted by a gorgeous set of 18-inch 5-arm star-design wheels with all-season tires, perfect for snowy Iowa winters. Enjoy premium entertainment, technology, and a list of robust standard safety features.
Audi Q5 Premium Plus: See a leap in the standard technology and entertainment offerings in the Premium Plus trims with features like Bang & Olufsen® sound system with 3D sound and the Audi Virtual Cockpit Plus. Throwback the panoramic sunroof in Spring and Summer on beautiful sunny days, driving around Iowa.
Audi Q5 Prestige: Everything luxurious you could want comes in the Audi Q5 Prestige with exceptional technology and comfortable ventilated front seats. The head-up display and Navigation package makes it simple to acquire driving information on the road and easily get to new places.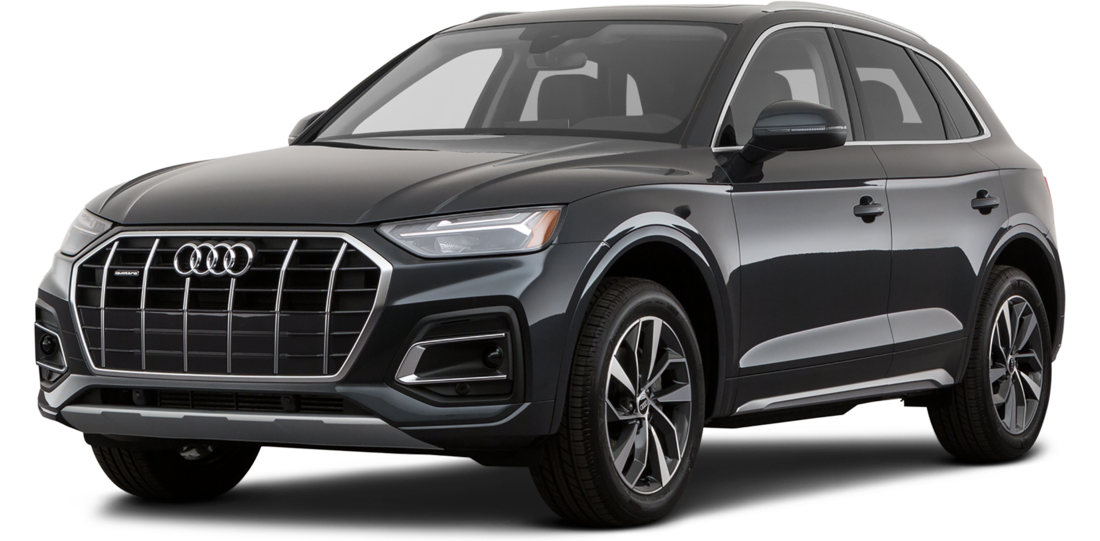 New Audi Q5 Sportback at Audi Des Moines
The new Audi Q5 Sportback is a beautiful addition to this year's Sportback options on the market. It'll be hard to beat the prowess and charisma of the new Audi Q5 Sportback on the Des Moines highways. The new Audi Q5 Sportback is perfect for both families or solo commuters looking for a comfortable and spacious athletic vehicle for their busy commute and weekend adventures. Its metallic paint selection is dazzling and complements its sleek exterior sculpt.
The Audi Q5 Sportback coupe-like sculpt enhances its dynamic on-road performance. Reach top speeds in under 6 seconds with the 2.0-liter TSFI engine that delivers 261 horsepower. Opt-in for different packages available to add personality and performance enhancements to your new luxury SUV. Test drive the Audi Q5 Sportback at Audi Des Moines.
Shop the New Audi Q5 PHEV for Gas Savings
The new Audi Q5 PHEV is a plug-in hybrid that has a few enhancements for the new year and tons of appeal to drivers seeking a luxury lineup of hybrid SUVs. The new Audi Q5 PHEV is offered in the same three trim levels as the Audi Q5, giving drivers with a range of wants and needs in a lineup of options to shop through. Different packages are available as you move up the trim levels, and we look forward to watching drivers get to know their favorite Audi Q5 PHEV from our selection.
The astounding 352-horsepower hybrid setup sends you to 60 miles per hour in five seconds flat. Run on all-electric mode for 23 miles and have the option of charging at home or at a public charging station. The new Audi Q5 PHEV options come with outstanding technology like a 10.1-inch MMI touchscreen infotainment system with wireless Apple CarPlay and the Audi Virtual Cockpit.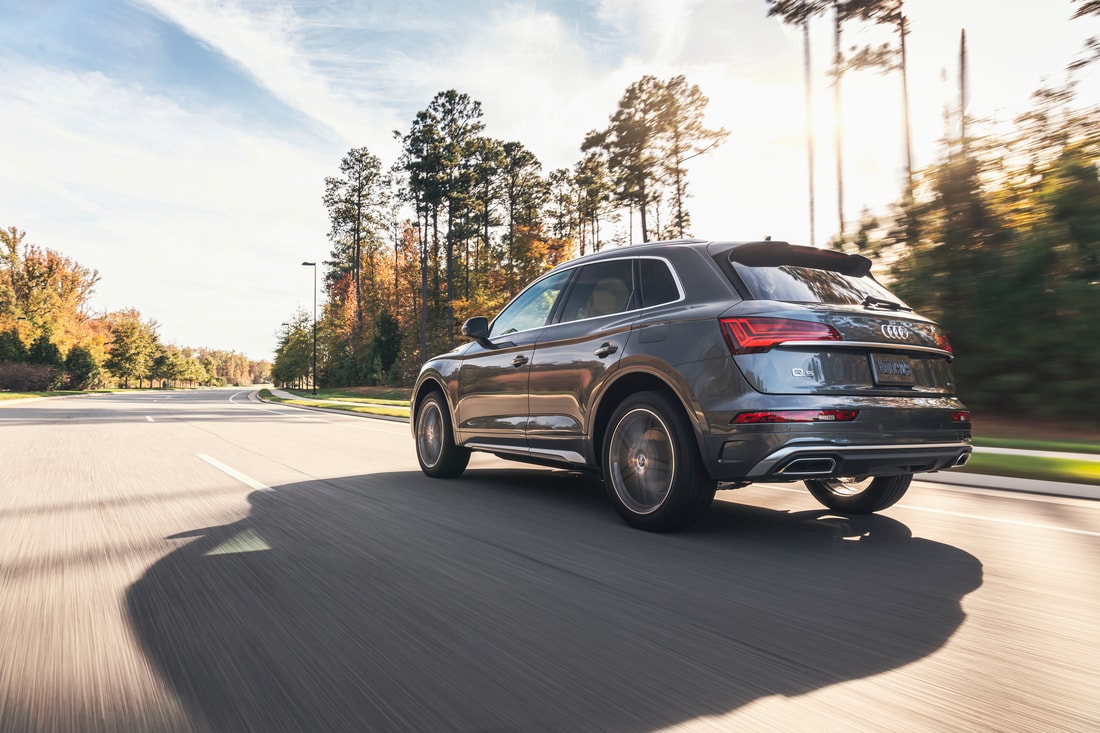 Use the Audi at Your Door Program to Buy a New Audi Q5 SUV Online
Drivers who want the full dealership experience but can't fit a personal visit to our dealership into their busy schedules will love the link text Audi at Your Door program. Drivers can have a new Audi Q5 Sportback brought to them for a test drive and have a trade-in evaluated virtually. We'll work with you so you can find your best special deals and offers online and remotely purchase whichever new or used luxury model you desire. And use Audi at Your Door for pickup and delivery when you can't make it to the garage for services yourself, and we'll bring it in for you.
Invest in the New Audi Q5 Today
The premier option for drives of all types is the Audi Q5. One of their most popular models is the Audi Q5 and here at Audi Des Moines in Johnston, IA our staff is happy to help you shop for one that you will love! Visit Audi Des Moines today to pick out your favorite new Audi Q5 from our extensive new inventory. Be sure to ask about the competitive finance and lease options we offer through our Audi Finance Center while you're here.
Secure Your Audi Q5 Purchase By Buying Online with Audi Des Moines
Des Moines drivers interested in shopping for the new Audi Q5 from their home or office can easily do so with Audi Des Moines. Purchase a new vehicle from our listings almost completely online, minus a few phone calls. With our Direct to Checkout program, shoppers can apply for financing, research models, value a trade-in, sign up for protection plans, and more. We'll help you with the closing paperwork and get your new Audi Q5 luxury SUV to your door in no time.
How can we help?
* Indicates a required field