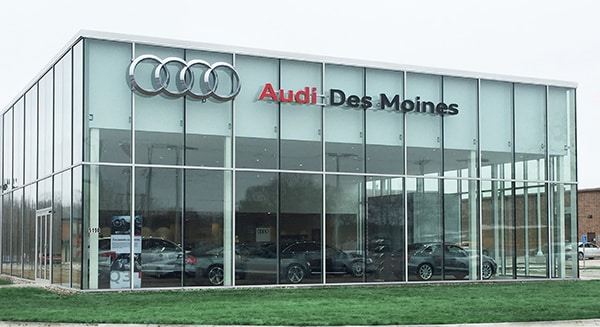 Get to know Audi Des Moines
At Audi Des Moines we're proud to offer service to more than just Des Moines residents. We serve drivers in Ames, Ankeny, Waukee, Marshalltown and many more. So if you're in the market for a quality new or used vehicle, we encourage you to visit and see our diverse lineup.
Audi Des Moines for your New Car
We keep a wide range of new vehicles at our lot here in Des Moines. We think it's an important part of being able to find you your next dream car. So whether you're looking for a luxurious and spacious sedan or something with more cargo space like an SUV, we're sure our new inventory will have something for you.
Audi Des Moines for your new used vehicle
We don't carry just great new cars, we also have a lineup of reliable and affordable used vehicle as well. Coming in a vast array of makes and models. Our used inventory is part of our commitment to getting all drivers the vehicle they want and need.
If you want something that offers some more peace of mind, our certified pre-owned is a great option. With Certified Pre-Owned you can get the confident feeling of driving a new car, without the new car price tag. You can even get some great financing options on our Certified Pre-Owned vehicles as well.
Our commitment to you doesn't end after getting you into your new car. We also offer Service Center, and a Parts Center, for those of you who like to tinker under the hood. Our goal is to keep your vehicle on the road.
As you can see Audi Des Moines is committed to you. So why not come visit today?
About Lithia:
Lithia Motors, Inc. is one of the largest automotive retailers in the United States and is among the fastest growing companies in the Fortune 500 with 180+ stores in 19 states. We offer 30 brands of new vehicles and all brands of used vehicles in our stores and online at over 200 websites.