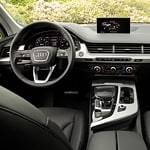 Audi is an automobile brand that's known for its luxurious vehicles. If you're thinking about getting a new luxury SUV, you'll want to learn more about the Audi Q7.
One of this vehicle's stand-out technology features is its 10.1-inch touchscreen infotainment system. Below this system, you'll find an additional 8.6-inch screen that allows you to easily control the interior temperature and other important automobile settings. The Audi Q7 also comes with a Virtual Cockpit digital display. This display sits where traditional analog dials would be. With this display, you're able to personalize it with the vehicle information you choose.
Another popular feature of this vehicle is its integration with both Apple CarPlay and Android Auto. With these additions, you'll be able to bring along your favorite music and navigation apps for the ride. You'll also be able to make and receive hands-free calls, helping you to stay safe on the road.