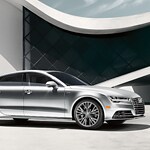 The year 2020 has come in with a bang, and the automobile industry has unveiled a myriad of advanced vehicles. This is where the Audi A7 comes into the frame. This luxury-sport sedan has all of the necessary goods, such a premium leather seats, seating for five individuals and exceptional levels of comfort.
The 2020 Audi A7 has an interior that's filled with the latest tech advancements. The car's ambient interior lighting is majestic as it will certainly set the mood to match your driving style. There is an array of 30 soft hues that can be chosen, or they can rotate in a set timeframe. On top of that, the rear-end of this vehicle hosts LED animation, and the front-end possesses beautifully shapes LEDs. The new A7 goes on to offer a 12.3-inch driver display.
The time is now to get an up-close and personal viewing of the 2020 Audi A7 at our showroom.