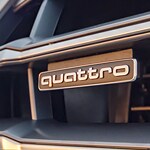 The 2020 Audi Q5 is an exceptional SUV to say the least. This particular automobile is very popular among a wide demographic of people. Audi gives you the best in a number of categories, including class, performance, comfort and appearance. Here's a better look at some of the performance aspects.
The 2020 Audi Q5 rides smoothly and balanced on 18-and 19-inch wheels. These wheels really fit the body while providing excellence handling and agility. Quatro all-wheel drive is another benefit while on the roadways. If traction is lost, then this advanced system will distribute power to the wheels. Quatro all-wheel drive works great on various surfaces, which should give you a ton of confidence. The 2.0-liter four-cylinder engine will produce as much as 273 pound-feet of torque. There's also a plug-in hybrid version that produces as much as 369 pound-feet of torque.
The time is now to speak with one of our associates. Test drives are also on the menu.