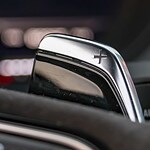 Driving is a privilege, but all automobiles aren't created equal. The 2020 Audi RS 3 is the ultimate in road performance, but this luxury-performance sedan has much more to offer. Consumers will receive advanced technology, superior craftmanship and interior comfort. This sedan is also gorgeously beautiful to the naked eye.
The 2020 Audi RS 3 has a top speed of at least 155 mph. The car's 2.5-liter TFSI engine doesn't play around, and it's turbocharged to perfection. Drivers will instantly blast off from a standstill thanks to the powertrain's forced induction. Greater amounts of traction are available via Quatro all-wheel drive. Drivers will also have access to sport-tuned steering, which delivers precise movements. Fuel efficiency is pretty good with its EPA-estimated 23 mpg. There's also 394 horsepower as well as 354 pound-feet of torque that's currently available.
Experience the 2020 Audi RS 3 by simply taking a test drive. We welcome all serious enthusiasts.